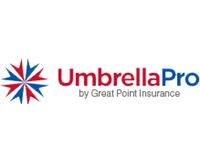 UmbrellaPro by Great Point Insurance
www.umbrellapro.com
Online Quote, Bind, and Issue Instantly at www.UmbrellaPro.com. Exclusive Programs for over 600 Classes. We are an independently owned Commercial Umbrella Underwriting Facility distributing through retail insurance agents in all 50 states and DC.
Showcase Insurance Markets
Restaurant Umbrella Program - $5M for $850
Hotel/Real Estate Umbrella Program- $5M for $1,000 - INSTANT BINDER
More Insurance Markets From UmbrellaPro by Great Point Insurance 8 Total
High Limit Real Estate Umbrella Program - Low MPs
www.UmbrellaPro.com - $5M for $850 - over 600 Classes of Business - Instant Binder!
Apartment Umbrella Program $5M for $1,000 - Online Quote, Bind & Issue
Construction Trades Umbrella Program - $5M for $1,000
Convenience Store Insurance
Service Industry Umbrella Program
Bed & Breakfast- $5MIL for $750
Contractor Umbrella- Low MPs - Hundreds of Eligible Classes