Small Business Umbrella Insurance - Online Quote, Bind, & Issue
Offered by UmbrellaPro by Great Point Insurance
Restaurants
Landscaper
Umbrella
Retail Stores
Family Restaurants
Car Wash
Commercial Umbrella
Movie Theaters
Nail Salons
Bowling Alley
Description
www.UmbrellaPro.com
- Hundreds of Eligible Classes - Minimum Premiums:• $5M $850
• $10M $1,000We are the nation's leading Umbrella Program Administrator and have 6 Exclusive Programs – Restaurant/Service, Construction Trades, Manufacturing, Wholesale Distributor, Retail, and Real Estate.
Below are some of our most popular classes of business:
• Restaurants
• Carpenters
• Delis
• Retail Stores
• Movie Theaters
• Bowling Lanes
• Pool Halls
• Campgrounds
• Nail Salons
• Car Washes
• Pet Stores
• Landscapers
• Food Distributors
• Electricians
• Manufacturers
• Gas Stations
• Bike Rentals
• Boat Dealers
• + HUNDREDS of other eligible classes
Program Features Include:
• "A" Rated Admitted Paper
• No Shared Limits
• Follow Form Auto & Liquor
Our exclusive Insurance One & Done ® e-commerce platform will efficiently guide you through a completely self-directed transaction process in as little as 7 minutes.
To quote, bind, issue, and invoice today please reach out to our team of experts. We will provide you and your client with instant pricing!
Carrier Information
Multiple
Listing Contact
Ryan O'Neill Director of Sales & Marketing
Offered By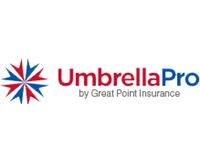 UmbrellaPro by Great Point Insurance
10 listings in 50 states + DC
View Company
Availability 50 states + DC
Alabama
Alaska
Arizona
Arkansas
California
Colorado
Connecticut
Delaware
District of Columbia
Florida
Georgia
Hawaii
Idaho
Illinois
Indiana
Iowa
Kansas
Kentucky
Louisiana
Maine
Maryland
Massachusetts
Michigan
Minnesota
Mississippi
Missouri
Montana
Nebraska
Nevada
New Hampshire
New Jersey
New Mexico
New York
North Carolina
North Dakota
Ohio
Oklahoma
Oregon
Pennsylvania
Rhode Island
South Carolina
South Dakota
Tennessee
Texas
Utah
Vermont
Virginia
Washington
West Virginia
Wisconsin
Wyoming