Competition is tightening across the P&C insurance market. With just 2 percent of new consumers entering the personal lines auto insurance market last year, and with retention rates hovering around 88 percent, most insurers face a zero-sum proposition in which the growth of their company requires taking share from competitors. With minimal organic growth, winning and retaining the most attractive customers – those we call "High-Value Customers" – has become an increasingly critical component of a modern carrier's growth strategy.
When looking at the rate of shopping among consumers in 2018, high-value customers, a segment of the marketplace that represents preferred risk profiles, better credit scores, fewer traffic violations, more insurance products and higher premiums, accounted for 21 percent of all insurance shoppers identified in our 2019 J.D. Power Insurance Shopping Study. By contrast, higher-risk customers comprised nearly 57 percent of all shopping activity. As a result, carriers seeking growth must be very disciplined about attracting the right types of consumers to their books. Unfortunately, many insurers are left in the dark when understanding the addressable market or further how to navigate within it.
Unlike other consumer goods or services, insurance margins are not known at the point of sale. They are influenced by both insurer and insured behavior and can weigh heavily on a carriers operating profit if they are incorrectly managed. The old adage that every risk has its price point, is becoming increasingly refuted by economic realities. The payback resulting on a new vehicle total loss is no longer measured in years, but in decades. Insurers are unlikely to ever recoup losses incurred by such an event even if a customer remains loyal to that a carrier for the long-term. Instead carriers need to shift their focus to finding and cultivating the "right customers."

Given the attractiveness of this high-value segment, one would assume that carriers have been in a full-court press to win and retain their business. They have not. Evidence suggests that carriers have done a poor job in this regard. Rate increases have been on the rise negatively impacting consumers with more assets. With low levels of new entrants, much of the industry's growth has been fueled by taking rate on their existing book of business. While this can help insurers in the short-term, it leads to increased shopping and switching behavior, often among the segment that is hit hardest.
Traditionally, these less price-sensitive consumers have been hard to displace from their incumbent insurer. However, the numbers are changing, with 68 percent of high-value customers citing the frequency of rate action taken and percentage of premium increase as the top factor influencing them to leave their prior insurer. Their rate of shopping remains below industry averages compared to standard and non-standard consumers, but there has been an uptick in their willingness to switch over the last several years that should unsettle incumbents.
Large multi-line mutuals have traditionally performed well in attracting these consumers through a combination of environmental conditions and capabilities designed to attract and service these higher-end consumers. However, the barriers to win over this segment are moving. Over half of 2018's auto direct written premium growth – 54 percent or $7.8 billion in direct written premiums – was captured by just two carriers: Progressive and GEICO. According to a recent Progressive earnings release, much of the company's success has been in attracting more of the high-end consumer through attractive pricing, engaged, independent agents and new features, such as online bundling of auto and home. The chart below helps to illustrate how the migration of high-value customers has been positively affecting brands that are best-positioned to lure business from this customer demographic.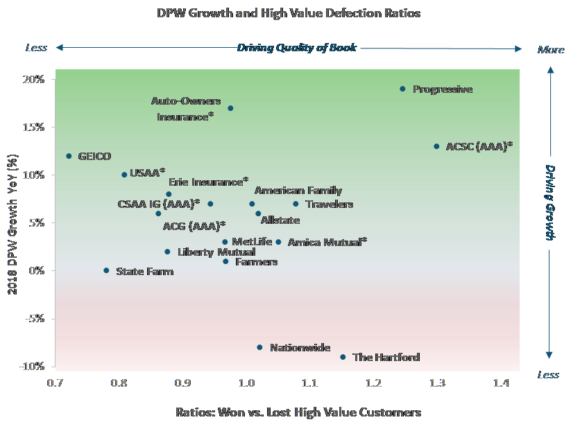 Further, evidence from our 2019 J.D. Power Insurance Shopping StudySM suggests that many carriers are missing the mark when it comes to meeting the expectations of this segment. High-value customers have the lowest Net Promoter® Scores [1] (NPS) in the industry according to our study, and overall customer satisfaction remains in-line with other consumer groups. This signals two disturbing trends for carriers.
First, carriers maintain an undifferentiated experience across all types of customers on their book. While regulatory safeguards exist to ensure all customers are treated fairly, longer-tenured customers that spend more than the average consumer have come to expect a higher-degree of service in return for their loyalty – which many carriers have failed to deliver.
Second, insurance carriers have failed to deliver an insurance experience that truly meets the needs of these types of consumers. Online self-service tools have scaled fairly quickly across the industry and do very well at delivering an experience that mono-line auto consumers come to expect. However, the tools to meet the needs of a more complex high-value customer, who often has bundled coverages that include policies ranging from umbrella to life insurance, are highly-fragmented and are difficult to navigate.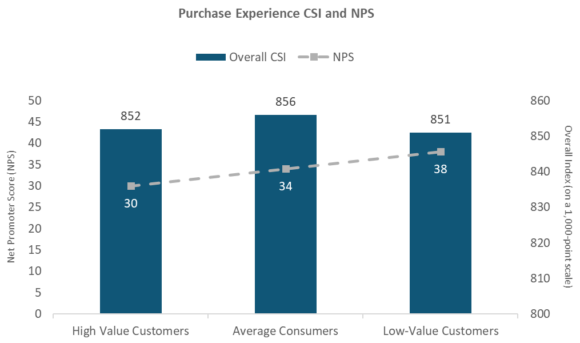 Any successful business understands the impact that high- and low-margin products have on their business and position their products and services accordingly. Carriers must apply those same principles and develop an offering that aligns to attracting and retaining the right types of consumers to their books. Unfortunately, evidence suggests that many carriers are missing the mark in this regard, turning these consumers into shoppers and creating the next battleground focused on high-value customer courtship.
[1] Net Promoter®, Net Promoter System®, Net Promoter Score®, NPS® and the NPS-related emoticons are registered trademarks of Bain & Company, Inc., Fred Reichheld and Satmetrix Systems, Inc.
---
About Tom Super
Tom Super (thomas.super@jdpa.com) is director of J.D. Power's P&C Insurance Practice and is based in Chicago.