Increases for commercial property/casualty insurance rates in the United States were again about 5 percent during June, the fourth straight month at that pace.
According to the latest composite index from MarketScout, all coverages, industry groups and account sizes held within a plus 1 to minus 1 percent range compared to last month.
By coverage classification, commercial auto had the highest rate increases at plus 6 percent. Property, general liability, directors and officers and employment practices liability (EPLI) followed at plus 5 percent. EPLI has made the most significant upward rate adjustment in the last four months.
Small accounts (under $25,000 premium) were assessed the largest rate increases at plus 6 percent. Jumbo accounts (those over $1,000,000 premium) enjoyed the best composite rates at plus 2 percent.
Contracting and service segments were the largest increases by industry class at plus 6 percent.
"The market is steady right now," said MarketScout CEO Richard Kerr in a statement accompanying the report. "There were no big surprises in July 1 treaty renewals and even the impact of Superstorm Sandy seems to have been forgotten by most property insurers."
The National Alliance for Insurance Education and Research conducts the pricing surveys that are used in MarketScout's analysis.
A summary of the June 2013 rates by coverage, industry class and account size is set forth below.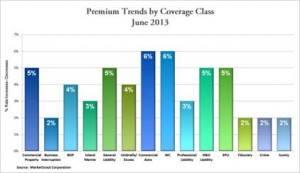 By Coverage Class:
By Coverage Class
Commercial Property
Up 5%
Business Interruption
Up 2%
BOP
Up 4%
Inland Marine
Up 3%
General Liability
Up 5%
Umbrella/Excess
Up 4%
Commercial Auto
Up 6%
Workers' Compensation
Up 6%
Professional Liability
Up 3%
D&O Liability
Up 5%
EPLI
Up 5%
Fiduciary
Up 2%
Crime
Up 2%
Surety
Up 2%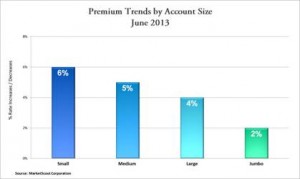 By Account Size
Small Accounts
Up 6%
Up to $25,000
Medium Accounts
Up 5%
$25,001 – $250,000
Large Accounts
Up 4%
$250,001 – $1 million
Jumbo Accounts
Up 2%
Over $1 million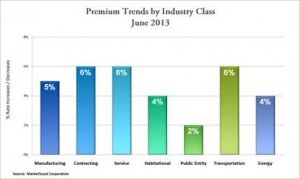 | | |
| --- | --- |
| By Industry Class | |
| Manufacturing | Up 5% |
| Contracting | Up 6% |
| Service | Up 6% |
| Habitational | Up 4% |
| Public Entity | Up 2% |
| Transportation | Up 6% |
| Energy | Up 4% |
Personal Lines Rates Also Rise; New High-Net Worth Entrants on the Way?
As personal lines insurers brace for what is predicted to be an active hurricane season, rates on average were up 4 percent across the U.S.
All homeowners and auto policies increased the same as last month, plus 4 percent. Personal articles floaters pricing decreased slightly at plus 2 percent as opposed to plus 3 percent last month.
According to MarketScout CEO Richard Kerr, there has been an increased interest in the high-net-worth space, which could halt rate increases in this segment, but only if these insurers can be successful.
"There are two major insurers considering moving into high-net-worth in a meaningful way.. If they do, the increased competition could have an impact on rates." Kerr said. "Don't get too excited about the new entrants. The high-net-worth space is tough to handle. It takes an enormous amount of capital and exceptional talent. Not many companies can fulfill those requirements. We expect any new entrants to tread lightly for the first year or two as they try to determine their place in the market."
The National Alliance for Insurance Education and Research conducted pricing surveys used in MarketScout's analysis of market conditions. These surveys help to further corroborate MarketScout's actual findings, mathematically driven by new and renewal placements across the United States.
Personal Lines
Homeowners under $1,000,000 value
Up 4%
Homeowners over $1,000,000 value
Up 4%
Automobile
Up 4%
Personal Articles
Up 2%