Workers Compensation from Midlands
Offered by Midlands Management Corp.
Compensation
Excess
Comp
Workmans Comp
Workers Compensation
Hospitality
Contractors
Agriculture
Oil & Gas
Description
Midlands comprehensive workers compensation coverage protects your clients' greatest assets – their people and their businesses. Our dedicated underwriting team has the expertise and experience to deliver the right workers compensation coverage for a competitive rate for small to medium-sized risks.
Program Highlights:
• Minimum premiums as low as $1,000
• E-Mods from .60 - 1.75 available
• Multi-state solutions
• New ventures welcomed - with exception to construction
• Excess Workers' Compensation available
• Competitive commissions
• Claims management: flexible to work with most TPAs including self-administration
• Flexible premium payment plans, including pay as-you-go

Classes:
• Assisted Living
• Trucking
• Sheet Metal Work
• Hotel/ Motel
• Oil & Gas
• Auto Dealers
• Contractors
• Financial Institutions/Services
• Professional Firms
• Healthcare
• Restaurants
• Agriculture
• Schools/ Universities
• Specialty Artisans
• Manufacturing
• Retail
• Wholesale
• Janitorial Services
• Grocery
• Machine Shops
• Landscaping
• Country Club/Golf
• Sign Installation
• Auto/Truck Repair
• Gasoline Dealer
• More...

Find more info or view our entire list of products at midlandsmgt.com/products.
Carrier Information
Multiple Markets
Listing Contact
Sarah Holmes Marketing
Offered By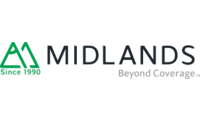 Midlands Management Corp.
10 listings in 50 states + DC
View Company
Availability 50 states + DC
Alabama
Alaska
Arizona
Arkansas
California
Colorado
Connecticut
Delaware
District of Columbia
Florida
Georgia
Hawaii
Idaho
Illinois
Indiana
Iowa
Kansas
Kentucky
Louisiana
Maine
Maryland
Massachusetts
Michigan
Minnesota
Mississippi
Missouri
Montana
Nebraska
Nevada
New Hampshire
New Jersey
New Mexico
New York
North Carolina
North Dakota
Ohio
Oklahoma
Oregon
Pennsylvania
Rhode Island
South Carolina
South Dakota
Tennessee
Texas
Utah
Vermont
Virginia
Washington
West Virginia
Wisconsin
Wyoming