Long-Term Care Facilities
Offered by AmWINS Group, Inc.
Assisted Living
Senior Living
Independent Living
Skilled Nursing
Retirement Community
Long Term Care Professional Liability
Long Term Health Care
Description
APU's Long-Term Care Facilities offering is a comprehensive long-term care liability program available nationally in exclusive partnership with an "A-" XI rated insurance carrier.
Target Accounts
Skilled nursing facilities
Assisted living facilities
Independent living facilities
Continuing care retirement communities
Both for-profit and not-for-profit facilities from single locations to larger long-term care organizations with multiple locations
Primary PL/GL minimum premium: $20,000

Policy Features
Primary professional liability written on a claims-made basis in all states

Will write primary and excess (supported or unsupported)
Primary general liability written on a claims-made or occurrence-basis
Additional insuring agreements include:
Evacuation Expense Reimbursement
Public Relations Reimbursement
Resident Property coverage
Employee Benefits Liability coverage
Coverage for punitive damages where allowable by law
Coverage for physical and sexual abuse
Standard form is defense outside the limit, can be moved inside for a premium credit
Limits/Retentions
Primary limits up to $1M per claim, $3M aggregate per location
First dollar coverage up to large ($1M) self-insured retentions offered
Excess umbrella limit available up to $5M
Listing Contact
Matt Wasta Managing Director
Offered By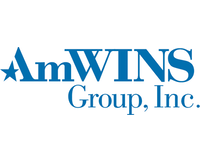 AmWINS Group, Inc.
32 listings in 50 states + DC
View Company
Availability 50 states + DC
Alabama
Alaska
Arizona
Arkansas
California
Colorado
Connecticut
Delaware
District of Columbia
Florida
Georgia
Hawaii
Idaho
Illinois
Indiana
Iowa
Kansas
Kentucky
Louisiana
Maine
Maryland
Massachusetts
Michigan
Minnesota
Mississippi
Missouri
Montana
Nebraska
Nevada
New Hampshire
New Jersey
New Mexico
New York
North Carolina
North Dakota
Ohio
Oklahoma
Oregon
Pennsylvania
Rhode Island
South Carolina
South Dakota
Tennessee
Texas
Utah
Vermont
Virginia
Washington
West Virginia
Wisconsin
Wyoming