Occupational Accident from Midlands
Offered by Midlands Management Corp.
Contractors
Disability
Dismemberment
Independent
Motor Carrier
Occupational Accident
Driver
Death
Description
Midlands is your number one option in the Occupational Accident space. Offered through A.M. Best A rated carrier, this program protects owner/operators, contractors and/or the motor carrier. With more than 35 years combined experience among underwriters, we have the ability to assist in the design of a program to meet the needs of the motor carrier and their independent contractors or owner/operators.

Coverage Includes:
• Medical expenses
• Accident disability income coverage - temporary total disability & continuous total disability
• Accidental death
• Accidental dismemberment
• Paralysis coverage
• 24-hour non-occupational accident coverage
• Hernia & hemorrhoid

Optional Coverages:
• Contingent liability
• Advance payments endorsement
• Occupational disease
• Cumulative trauma
• Pre-existing conditions coverage
• Commute
• Seat belt & air bag
• Additional non-occupational coverage

Preferred Classes:
• Trucking Owner/Operator
• Trucking Contract Driver
• Couriers
• Fifth-Wheel Drivers
• Cable Installers
• Motor Carrier
• Other Classes Considered

Find more info or view our entire list of products at midlandsmgt.com/products.
Carrier Information
Multiple Markets
Listing Contact
Sarah Holmes Marketing
Offered By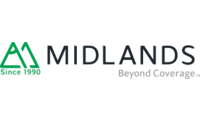 Midlands Management Corp.
10 listings in 50 states + DC
View Company
Availability 50 states + DC
Alabama
Alaska
Arizona
Arkansas
California
Colorado
Connecticut
Delaware
District of Columbia
Florida
Georgia
Hawaii
Idaho
Illinois
Indiana
Iowa
Kansas
Kentucky
Louisiana
Maine
Maryland
Massachusetts
Michigan
Minnesota
Mississippi
Missouri
Montana
Nebraska
Nevada
New Hampshire
New Jersey
New Mexico
New York
North Carolina
North Dakota
Ohio
Oklahoma
Oregon
Pennsylvania
Rhode Island
South Carolina
South Dakota
Tennessee
Texas
Utah
Vermont
Virginia
Washington
West Virginia
Wisconsin
Wyoming