Public Entity from Midlands
Offered by Midlands Management Corp.
Public Entities
Public Entity
Schools
Municipalities
Workers Compensation
Cities
Districts
Government
Employer Liability
Professional Liability
Description
Experts in government insurance, Midlands specializes in the ever-evolving public entity insurance sector. For innovative coverage solutions, industry-best risk management and claims services, tailored to meet each client's specific needs, Midlands is the clear choice.
Coverages Available:
• Property
• General liability
• Crime and fidelity
• Employee benefits programs including workers' compensation
• Automobile
• Errors and omissions
• Law enforcement liability
• Employment practices liability
• Umbrella/excess liability
• Clash coverage standard
• Enhanced property and liability terrorism

Program Highlights:
• Exclusive manuscript indemnity forms for Public Entities, Schools, Religious Entities and Higher Education
• We can offer high excess of loss package programs
• Follow form reinsurance to 'follow the fortunes' of client's memorandum of coverage available
• Flexible program meets client's insurance needs and risk retention appetite
• All perils coverage includes windstorm, earthquake, flood zones A and V and comprehensive casualty coverage
• We quote with and without property and workers' compensation coverage
• Basket aggregate loss fund can apply to all lines
• Multiple lines clash coverage is provided

Find more info at midlandsmgt.com/products.
Carrier Information
Multiple Markets
Listing Contact
Sarah Holmes Marketing
Offered By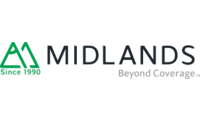 Midlands Management Corp.
10 listings in 50 states + DC
View Company
Availability 50 states + DC
Alabama
Alaska
Arizona
Arkansas
California
Colorado
Connecticut
Delaware
District of Columbia
Florida
Georgia
Hawaii
Idaho
Illinois
Indiana
Iowa
Kansas
Kentucky
Louisiana
Maine
Maryland
Massachusetts
Michigan
Minnesota
Mississippi
Missouri
Montana
Nebraska
Nevada
New Hampshire
New Jersey
New Mexico
New York
North Carolina
North Dakota
Ohio
Oklahoma
Oregon
Pennsylvania
Rhode Island
South Carolina
South Dakota
Tennessee
Texas
Utah
Vermont
Virginia
Washington
West Virginia
Wisconsin
Wyoming