Marijuana Cannabis Industry from Midlands
Offered by Midlands Management Corp.
Marijuana
Cannabis
Medical Marijuana
Recreational Marijuana Dispensary
General Liability
CBD
Product Liability
Professional Liability
Cyber
Description
Midlands provides a broad, flexible policy to meet the needs of each industry segment in this complex and evolving industry. We offer seamless coverage from raw materials to finished goods throughout the supply chain.
Available Coverages:
• Products liability, general liability and professional liability – claims made
• $10 million primary or excess limits available
• Deductible and SIR structures available
• Unsupported excess available
• Occurrence on limited classes
• Class I products recall coverage
• Cyber liability coverage available for third party liability, regulatory proceeding claims expense and first party privacy breach expense
Target Classes:
• Dispensaries
• Growers
• Processors
• Retailers
• Infused products
• Recreational (where legal)
Highlights:
• Minimum premium as low as $3,500
• Policy deductibles as low as $1,000; standard - $5,000; SIR - $25,000 minimum
• Coverage for medical directors and review board available
• Premises general liability coverage options
• Buybacks on excluded substances often available
• Prohibited risks: ephedra, foreign trials
Contact the Underwriter: Jennifer Reed |
jreed@midman.com
Details
Has Pen
Appointment Required
Listing Contact
Christina Bass Marketing
Offered By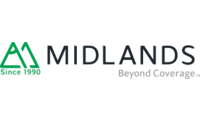 Midlands Management Corp.
10 listings in 50 states + DC
View Company
Availability 30 states
Alabama
Alaska
Arizona
Arkansas
California
Colorado
Connecticut
Delaware
District of Columbia
Florida
Georgia
Hawaii
Idaho
Illinois
Indiana
Iowa
Kansas
Kentucky
Louisiana
Maine
Maryland
Massachusetts
Michigan
Minnesota
Mississippi
Missouri
Montana
Nebraska
Nevada
New Hampshire
New Jersey
New Mexico
New York
North Carolina
North Dakota
Ohio
Oklahoma
Oregon
Pennsylvania
Rhode Island
South Carolina
South Dakota
Tennessee
Texas
Utah
Vermont
Virginia
Washington
West Virginia
Wisconsin
Wyoming