Commercial Diving Insurance
Offered by Accessible Marine Insurance (AMI)
Marine General Liability
In-Rem
Action Over
Hull
P&I
Diving
Commercial Diving
MEL
Maritime Employers Liability
Marine Contractors
Description
AMI has worked closely with the marine industry especially the commercial diving industry for many years, and we are proud to offer very competitive terms and pricing for the following coverages:
General Liability Insurance
Primary limits of $1,000,000, excess limitsas requested
Including Products Liability and Completed Operations; Gulf of Mexico Extension; Sudden and Accidental Pollution; Employee Benefits Liability; Blanket Additional Insureds; Blanket Contractual and Waiver of Subrogation, In-Rem, Action Over, and more.
Maritime Employers LiabilityInsurance (MEL)
Primary limits of $1,000,000, excess limitsas requested.
Worldwide coverage.
Hull and P&I Insurance
All kinds of vessels covered including, but not limited to workboats, barges, DSVs, Submersibles.
Including Excess Collision and Tower's Liability, Cargo Liability and Pollution Liability emanating from vessels.
Equipment Insurance
Worldwide coverage while in the water, onboard vessels, in transit by any mode of transport, and while in storage.
Replacement cost coverage available on selected items.
Including cover for leased / rented equipment.
Includes ROVs and AUVs.
Contact us today for additional information or to talk with a marine risks specialist
Offered By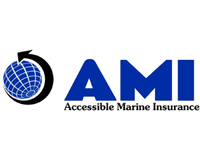 Accessible Marine Insurance (AMI)
2 listings in 50 states + DC
View Company
Availability 50 states + DC
Alabama
Alaska
Arizona
Arkansas
California
Colorado
Connecticut
Delaware
District of Columbia
Florida
Georgia
Hawaii
Idaho
Illinois
Indiana
Iowa
Kansas
Kentucky
Louisiana
Maine
Maryland
Massachusetts
Michigan
Minnesota
Mississippi
Missouri
Montana
Nebraska
Nevada
New Hampshire
New Jersey
New Mexico
New York
North Carolina
North Dakota
Ohio
Oklahoma
Oregon
Pennsylvania
Rhode Island
South Carolina
South Dakota
Tennessee
Texas
Utah
Vermont
Virginia
Washington
West Virginia
Wisconsin
Wyoming