Description
Midlands is an industry-leading wholesale broker, program administrator and insurance services provider. Midlands' agents and clients benefit from our access to the world's leading admitted and non-admitted carriers and our very own exclusive programs.

Midlands Sexual Misconduct and Molestation policy offers financial protection and services for organizations or the defense and liability in responding to actual or alleged acts of sexual misconduct and molestation, as well as negligent hiring and supervision.
Highlights

Coverage for executive officers, directors, trustees, employees, coaches, counselors, clergy and volunteers
Coverage includes negligent hiring, employment, investigation, supervision, training or retention of, or failure to report to proper authorities employees who commit acts of sexual misconduct or molestation
Coverage for insured events occurring anywhere in the world
Duty to defend policy
Early loss mitigation by leading experts in the field, assisting from the first day of notice of a claim
Tailored risk management to suit the specific requirements of each policyholder
Access to our network of expert counsel available for the handling of all claims
Web-based risk management tool that includes training, articles and advice
Limits up to $5,000,000 available as a primary or excess placement
Worldwide coverage
Ability to backdate
Classes

Religious Institutions • Social Services • Public Schools • Charter Schools • Non-profit Organizations • Healthcare Organizations • Church • Camps • Recreation Centers • Outdoor Activity Companies • Educational Institutions

Offered By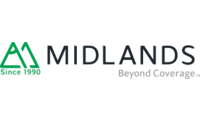 Midlands Management Corp.
10 listings in 50 states + DC
View Company
Availability 50 states + DC
Alabama
Alaska
Arizona
Arkansas
California
Colorado
Connecticut
Delaware
District of Columbia
Florida
Georgia
Hawaii
Idaho
Illinois
Indiana
Iowa
Kansas
Kentucky
Louisiana
Maine
Maryland
Massachusetts
Michigan
Minnesota
Mississippi
Missouri
Montana
Nebraska
Nevada
New Hampshire
New Jersey
New Mexico
New York
North Carolina
North Dakota
Ohio
Oklahoma
Oregon
Pennsylvania
Rhode Island
South Carolina
South Dakota
Tennessee
Texas
Utah
Vermont
Virginia
Washington
West Virginia
Wisconsin
Wyoming