Employment Practices Liability from Midlands
Offered by Midlands Management Corp.
General Liability
EPLI
Professional Liability
Excess
Employment Practices Liability
Third Party Coverage
Wage And Hour
Harassment
Sexual Harassment
Wage & Hour
Description
Midlands
employment practices liability policy is for the retail, manufacturing, and technology industries as well as for businesses that are harder to place like contractors, hotels, restaurants, and auto dealers. Coverage is available for both private and public companies.
Highlights:


Limits up to $25,000,000
Wage & Hour sublimits of defense available
Duty to defend with the insured having the right to assume the defense
Broad definition of Insured including the Company, all employees and any leased employees
Third party liability coverage
Option for cost of defense outside the limit on most small accounts
Policies are issued quickly and can be emailed
Risk Management program available
Direct access to skilled and responsive underwriting team with decades of combined experience
Minimum retentions of $5,000
Definition of insured event includes: Discrimination | Sexual harassment | Wrongful termination/demotion/discipline | Failure to hire/promote/fire/demote | Wrongful infliction of emotional distress | False imprisonment/detention, malicious prosecution | Libel, slander, defamation of character, invasion of privacy
Competitive pricing
Worldwide coverage
Consideration of risks ranging from 2 to over 100,000 employees
Various retention credits
Excess available
Carrier Information
Multiple
Listing Contact
Christina Bass Marketing
Offered By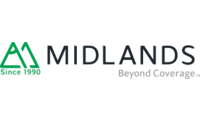 Midlands Management Corp.
10 listings in 50 states + DC
View Company
Availability 50 states + DC
Alabama
Alaska
Arizona
Arkansas
California
Colorado
Connecticut
Delaware
District of Columbia
Florida
Georgia
Hawaii
Idaho
Illinois
Indiana
Iowa
Kansas
Kentucky
Louisiana
Maine
Maryland
Massachusetts
Michigan
Minnesota
Mississippi
Missouri
Montana
Nebraska
Nevada
New Hampshire
New Jersey
New Mexico
New York
North Carolina
North Dakota
Ohio
Oklahoma
Oregon
Pennsylvania
Rhode Island
South Carolina
South Dakota
Tennessee
Texas
Utah
Vermont
Virginia
Washington
West Virginia
Wisconsin
Wyoming