Healthcare Workers' Compensation
Offered by AmWINS Group, Inc.
Healthcare
Workers Compensation
California Workers Comp
Workers Comp
Monoline Workers Compensation
WC For Healthcare
Healthcare WC
Healthcare Workers Comp
Description
APU's AmeriComp Healthcare program provides national mono-line workers' compensation coverage for the healthcare industry.

Target Classes:
Assisted Living Facilities
Clerical (heath care related)
Clinics
Closed Pharmacies
Community Hospitals
Continuing Care Retirement Communities (CCRC)
Convalescent Homes
Dental/Admin assistant
Doctor's Offices
Health Care Related Corporate Offices
Home Health Care Providers
Hospice Provider (except NY)
Hospitals
Infusion Therapy Provider
Medical Equipment Supplier
Medical Staffing
Mental Health Counseling
Nurse Registry
Nursing (RN, LPN, LVN, CNA)
Outside Sales
Physical Therapy / Occ. Health
Retail Pharmacy
Retirement Centers
Skilled Nursing Home Facility (except NY)
Teacher/Instructor (medical or health care related)
Visiting Nurse Agency
Volunteers & Donated Labor/Services (cannot be greater than 15% of total exposure)


Minimum Premium
$10,000


Submission Requirements
Completed ACORD Applications
AmeriComp Healthcare Supplemental Application
Three to five years of currently valued loss runs
Experience Modification Worksheet
Minimum of three years prior, continuous Workers' Compensation coverage



Carrier Information
QBE and others
Offered By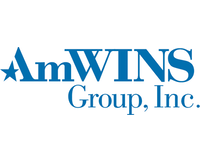 AmWINS Group, Inc.
32 listings in 50 states + DC
View Company
Availability 50 states + DC
Alabama
Alaska
Arizona
Arkansas
California
Colorado
Connecticut
Delaware
District of Columbia
Florida
Georgia
Hawaii
Idaho
Illinois
Indiana
Iowa
Kansas
Kentucky
Louisiana
Maine
Maryland
Massachusetts
Michigan
Minnesota
Mississippi
Missouri
Montana
Nebraska
Nevada
New Hampshire
New Jersey
New Mexico
New York
North Carolina
North Dakota
Ohio
Oklahoma
Oregon
Pennsylvania
Rhode Island
South Carolina
South Dakota
Tennessee
Texas
Utah
Vermont
Virginia
Washington
West Virginia
Wisconsin
Wyoming